CONGRATULATIONS GRADUATES!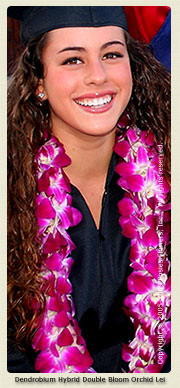 Make your upcoming graduation a memorable one with our special hand crafted orchid leis.
The leis are meticulously constructed of triple layers of dendrobium hybrid orchids and are guaranteed fresh for your graduation day.
Grown in Thailand, originally from natural stock, our orchids are nursery grown and cultivated utilizing environmentally friendly methods, maintaining the sustainability of the natural resource.
Dear University of San Diego Graduates, families and friends…
We at GraduationLeis.com hope that all of you are healthy and safe during this difficult time. Like all of you, we are deeply saddened that the 2020 graduates are having their Commencement activities altered due to COVID-19.
As you know, commencement activities for the May 16th and May 23rd weekends have been canceled with the possibility of a postponement to a weekend in October, 2020.
If you have ordered a lei for either of the May weekends, you have the following options:
First, assuming the October Commencement does take place and if your graduate will be attending the October ceremony, your graduate will be able to get their orchid lei at that event.
Second, if your graduate does not plan to attend the October event, you can contact us at info@graduationleis.com and we can refund you your money for the pre-order.
Refund options are through PayPal if the order was placed through our website or by check, if the order was placed at GradFest. Of course, if the October Commencement Weekend does not come to fruition, anyone that does not request a refund at this time will get a refund if and when the cancellation of the October event is final.
Congratulations to the Class of 2020!
GraduationLeis.com has been in business for over 25 years providing flowers & leis for graduation ceremonies in the San Diego metropolitan area.
To ensure availability, the leis must be pre-ordered and picked up on the day of the graduation ceremony.
Pickup locations are strategically located near prominent venues on campus.
Once you have placed your order, an order confirmation email will be sent to your email address.
Your specific pickup location will be specified during your order process.
Please make note of this location, for pickup on graduation day!